Nonostante la saturazione del medium ed il calo delle prestazioni, l'e-mail marketing sembra rimanere un canale fondamentale per le strategie di digital marketing di molte grandi aziende.
In questo articolo riprendiamo ed analizziamo i risultati della CMO Spend and Strategy Survey del 2022, in cui Gartner ha analizzato le prestazioni delle campagne di e-mail marketing di 1227 brand internazionali appartenenti a sei settori: beni di consumo, servizi finanziari, assistenza sanitaria, produzione e risorse naturali, vendita al dettaglio, viaggi ed ospitalità.
La survey ha rilevato che per il 44% dei CMO l'e-mail marketing rimane essenziale per la strategia di marketing digitale complessiva, destinando l'8% del loro intero budget al canale.
Di fatto, Gartner rileva come i brand continuino ad inviare sempre più e-mail nel tempo, nonostante il 64% dei clienti dichiari di essere "sopraffatto" da questo genere di comunicazione commerciale, e nonostante i tassi di apertura in diminuzione e la percezione di obsolescenza che questo canale si porta dietro da anni.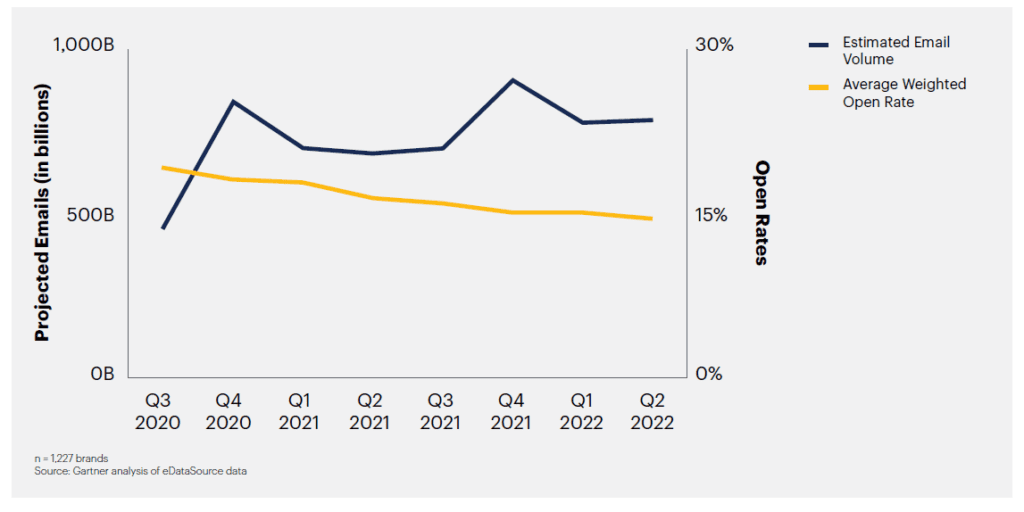 La situazione generale dell'e-mail marketing
Il tasso di apertura delle e-mail sta diminuendo, come è noto da tempo, perché le aziende inviano TROPPI messaggi ai propri clienti. Il 67% dei clienti intervistati (sia B2B che B2C, ricordiamolo) dichiara di aver creato un account e-mail "spazzatura" per evitare messaggi indesiderati.
I consumatori sono quindi orientati ad annullare le iscrizioni alle newsletter di quei brand che propongono e-mail ripetitive e ridondanti.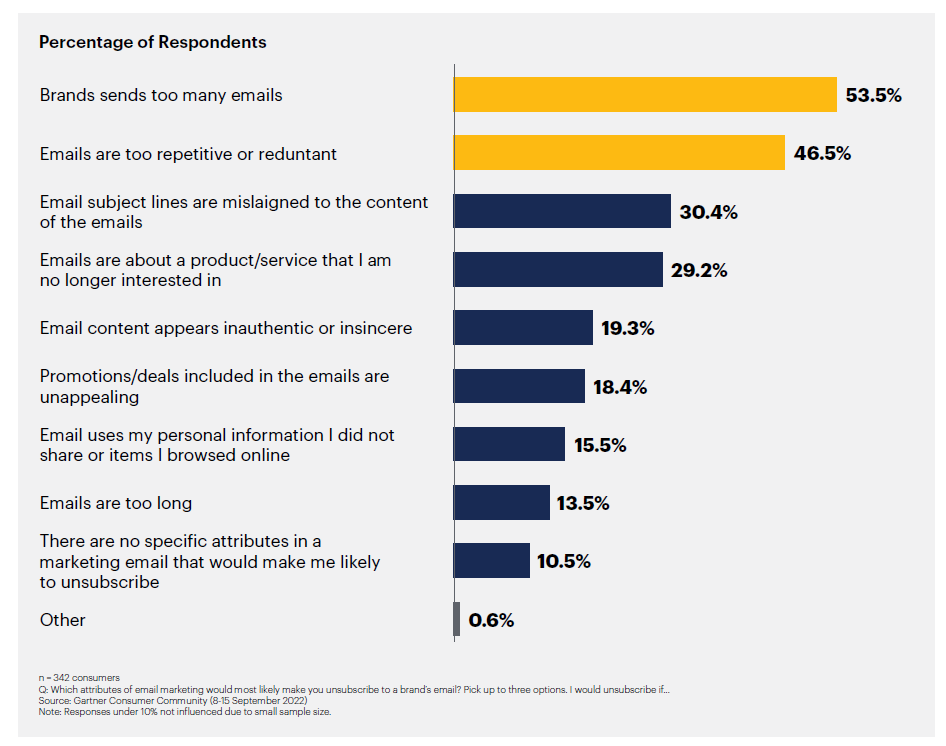 I brand presuppongono che i consumatori comprendano il valore ed i vantaggi di ricevere e-mail. Tuttavia, meno della metà delle aziende della survey di Gartner ha saputo descrivere i vantaggi o i contenuti delle proprie newsletter.
La personalizzazione è la chiave per garantire la pertinenza dei contenuti e dei messaggi delle e-mail. Mentre quasi la metà dei customer riferisce di "apprezzare" le e-mail dei brand che fanno riferimento a dettagli personali su di loro, solo il 31% delle e-mail di marketing utilizza la personalizzazione.
Le campagne e-mail di presentazione di un nuovo prodotto/servizio sono le più (massicciamente) proposte dalle aziende, ma ovviamente sono le e-mail che premiano la loyalty con benefit (codici sconto, regali, etc.) ad assicurare il tasso di apertura più alto.
Key point per ottimizzare le strategie di e-mail marketing
Aumentare le sottoscrizioni e migliorare l'engagement esplicitando in modo chiaro, in fase di registrazione, il valore aggiunto dato dall'iscrizione alla newsletter del brand, consentendo ai clienti di settare le preferenze sui temi e la frequenza di ricezione delle e-mail.

Se, infatti, il 65% dei brand esaminati dispone di una newsletter, solo il 49% descrive esplicitamente i vantaggi dell'iscrizione, il 26% spinge gli utenti a selezionare gli argomenti di proprio interesse, ed un misero 1% chiede le preferenze sulla frequenza delle e-mail al momento dell'iscrizione.
Aumentare l'efficacia delle e-mail customizzando i messaggi con dati personali accuratamente selezionati: in tal modo, si potrà offrire aiuto attraverso comunicazioni personalizzate che contestualizzano le offerte aziendali e supportano le decisioni di acquisto.
Massimizzare il customer value – dal blog di Zendesk : "Customer value is best defined as how much a product or service is worth to a customer. It's a measure of all the costs and benefits associated with a product or service. Examples include price, quality, and what the product or service can do for that particular person. There are also monetary, time, energy, and emotional costs that consumers consider when evaluating the value of a purchase" – diversificando i tipi di campagne (lancio prodotto, promozioni, trigger, ecc.), dando allo stesso tempo priorità ai tipi di campagne di maggior successo, (loyalty, premi e scontistica) che generano un alto tasso di apertura.
Nonostante siano bombardati da un numero eccessivo di messaggi, i consumatori affermano di gradire ancora l'e-mail come canale per ricevere comunicazioni da brand mai provati e da aziende presso cui acquistano di frequente. La soluzione è PIANIFICARE MENO CAMPAGNE, puntando sulla qualità e, come già detto, sulla personalizzazione.
La ricerca in formato integrale è scaricabile qui.